Welcome to North Spokane Veterinary Clinic
Your Veterinarian in Spokane, WA
Call us at 509-466-4696
Pet Emergency? Read no further and call us right away!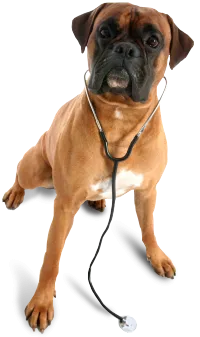 If you live in Spokane or the surrounding area in WA, then you have picked the perfect site to find a veterinarian. Located in north Spokane we strive to achieve our goal of providing your pets with the highest level of medical care within a compassionate, caring environment. We have been providing veterinary medical services since February, 1999, when Dr. Christine J. Alstead opened the practice. After retiring in December of 2021, doctors Jeff & Christine Siems took ownership of the clinic, and partnered with Dr. Ruth Reiha who is now North Spokane Veterinary Clinic's full-time veterinarian. She, along with her competent, caring staff, make it their priority to ensure your veterinary visit is pleasant and stress-free for you and your pet. Your pet's health and well being is very important to us and we will take every step to give your pet the best possible care.
The clinic provides a full spectrum of medical services. It includes vaccinations, spay and neuter from puppy/kitten through adult. We treat all type of injury, sickness, and medical problem, including cancer. We emphasize preventive medicine focusing on dental and geriatric care. Proper oral hygiene is imperative for our pets because the consequences of neglect can result in severe health problems, not just in the mouth but to organs, including the heart. As your pet begins to enter the senior years of their life we encourage diagnostics with regular monitoring, such as blood-work and ECG, for early detection of problems.
When presented with complex medical cases we utilize the many resources available within our veterinary medical community. Specialists in radiology, ultrasound, and MRI are available for consult and diagnostics. Surgical specialists are available for complex major surgical procedures. Extremely unusual medical cases are regularly consulted and referred to Washington State University's College of Veterinary Medicine.
Finally, we are very excited to offer a new medical treatment for senior pets with arthritis. Low intensity, therapeutic laser has been developed for such treatment. We offer this treatment with K-Laser, the first FDA approved laser for medical treatment. In addition to treating arthritis it has been found to accelerate healing in a continuously growing list of medical maladies.
We have a number of resources for you to learn about how to take better care of your pets. Browse around and look at our articles and pet videos. The best veterinary care for animals is ongoing nutrition and problem prevention. If you want to ask a question call 509-466-4696 or email us and we'll promptly get back to you. North Spokane Veterinary Clinic is very easy to get to, and you can find directions on our Contact Us page. You can also subscribe to our newsletter which is created especially for Spokane pet owners. In between your veterinary visits, your pet will benefit from you reading these free informative articles.
At North Spokane Veterinary Clinic, we treat your pets like the valued family members they are.
Ruth Reiha
Spokane Veterinarian | North Spokane Veterinary Clinic | 509-466-4696
9321 N. Nevada St.
Spokane, WA 99218